As a brick-and-mortar small business, you might think you're not at risk of cyber-attacks this holiday season. That it's just something for e-commerce to worry about. Unfortunately, it's not. In 2020, Trustwave found that 24% of all cyberattacks target retailers. Most retailers are a combination of physical brick-and-mortar stores and e-commerce systems. Even if you haven't embraced e-commerce, you still process payments and access customer data within your store. Cybersecurity tips for small businesses only work if you acknowledge the threat in the first place.

Taking the proper steps to ensure your business is protected against cyber threats will help ensure a successful holiday season and the year to follow. Here's what you need to know.
Here are Some Cybersecurity Tips for Small Businesses:
1.      Consider Your Risks
Unfortunately, many small businesses don't take security seriously because they don't realize the risk. Not only can your customers' information be stolen and compromised during a sale, but hackers can also attack your business and steal money from you.
Common retail risks include credit card fraud, phishing, and overpayment scams. Make sure you're aware of where your business is vulnerable and take steps to improve security before the holiday season.
2.      Update Your Business Software
Software updates are so often overlooked or appreciated for how important they are. These updates are notorious for happening at the most inconvenient times, but it doesn't have to be that way. By proactively updating your software, you can choose to have them take place overnight when you aren't actively serving customers.
With updates, your computer fixes or replaces older versions of software on your computer. Included in these updates are anything security related as well. Hackers are always searching for companies that have limited or outdated security to attack. Therefore, you must constantly stay ahead of cybercriminals and ensure that your software is up to date.
3.      Train Employees on Cybersecurity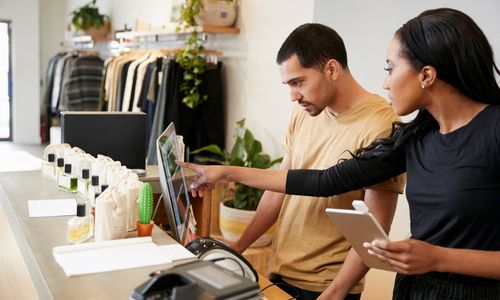 Most retailers today have an internal computer system to protect along with their website, e-commerce platform, HR, payroll system, and more.
Your employees are the first line of defense against hackers and criminals, so they need to know the security standards and how to avoid being taken advantage of. Impress upon them that understanding cybersecurity will not only protect the business but will also help secure their personal information as well.
Some important cybersecurity topics to cover:
How company data security impacts them, their jobs, and their career
Password security and best practices
Phishing and other common email scams
How to detect payment fraud
The value of business data to thieves and hackers
Real-world examples of retail breaches and the consequences
When your employees are well-trained, they'll be less likely to accidentally expose your store to hacking or theft through security breaches.
4.      Choose Your Employees Carefully
Another cybersecurity tip for small businesses has to deal with your staff. Some retailers skip their normal hiring processes and streamline bringing in new employees during the holiday season. Unfortunately, that puts your business at risk.
Not everyone who walks into your store looking for work is trustworthy, and when you hire someone and give them access to keys, passwords, and other information, you're placing a lot of faith in them.
Create an employee computer usage guideline. This will help limit access to sensitive material to specified personnel only. The risk of an employee opening an encrypted email or, even worse, directly stealing sensitive company material from you is too high to chance.
Do your best to get a jump on vetting, hiring, and training your employees before the rush of the holiday season kicks in so you can take the necessary time to hire the right people.
5.      Don't Let Your Guard Down
Don't make the mistake of thinking that because you're a small business or sell mainly through your brick-and-mortar store, you're not at risk for cyberattacks. Only 50% of small and medium-sized businesses have a cybersecurity plan. Cybercriminals are aware of these numbers and are taking full advantage, especially at this time of year when companies are overwhelmed with the demand of the holiday season.
We hope you enjoyed our Cybersecurity Tips for Small Businesses. For more information on the subject, contact TCI Technologies about how we can help you with your cybersecurity needs.