Patient data protection has become paramount in the medical field. 95% of all identity theft incidents are from stolen healthcare records. With electronic health records and online communication becoming increasingly commonplace, doctors and patients must actively safeguard against cyber-attacks. The enormous amounts of information stored within medical records are so valuable on the dark web that it is worth 10 to 40 times more than stolen credit card numbers.

Cybercriminals will continue their relentless attempts at hacking into healthcare institutions and the patients who interact with them through doctor/patient portals online. Here are some crucial tips for both doctors and patients to enhance patient data protection.
Safeguarding Sensitive Information: 7 Crucial Cybersecurity Tips for Healthcare Institutions

1.     Implement Secure Systems
Utilize robust electronic health record (EHR) systems with strong encryption and access controls to assist with patient data protection. Regularly update and patch your software to address vulnerabilities that cybercriminals could exploit.
2.     Train Staff
Ensure that your entire staff is well-versed in patient data protection protocols. Conduct regular training sessions to educate them about the importance of safeguarding patient information and the potential risks of data breaches through everyday operating procedures, such as phishing emails.
3.     Use Strong Authentication
Implement multi-factor authentication (MFA) for accessing patient records and sensitive information. MFA adds an extra layer of security by requiring multiple forms of verification.
4.     Limit Access
Adopt a zero-trust model for your office. Grant access to patient data only to limited authorized personnel on a need-to-know basis. Regularly review and update access permissions as staff roles change.
5.     Secure Communication
Encourage secure communication methods, such as encrypted email services and interoffice messaging, when discussing sensitive patient information with colleagues or patients directly.
6.     Data Encryption
An effective patient information protection method is ensuring that all patient data is stored and transmitted in encrypted formats. Encryption converts data into unreadable code, making it much harder for unauthorized parties to access or interpret.
7.     Regular Audits
Conduct routine security audits and assessments to promptly identify and address vulnerabilities in your systems. This proactive approach can prevent potential breaches.
Patient-Centric Security: 7 Tips to Share with Your Patients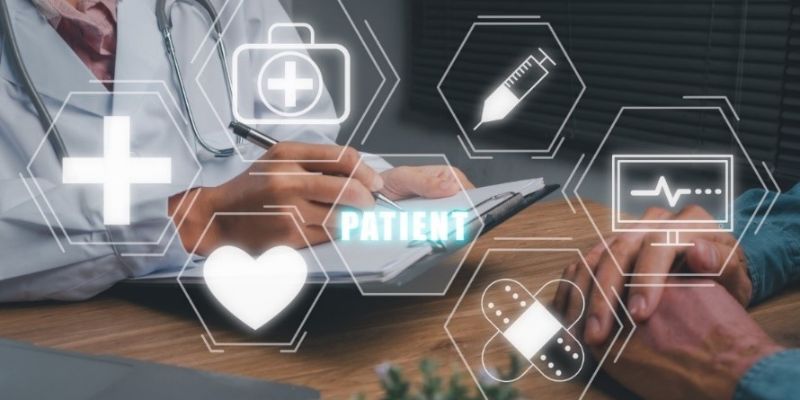 Taking the time to educate your patients not only helps with patient data protection but shows them that you are looking out for their security and best interests.
1.     Informed Consent
When sharing their medical information with healthcare providers, ensure they understand how their data will be used and shared. Provide informed consent before their information is included in research or shared with third parties.
2.     Strong Passwords
Advise them to create strong, unique passwords for patient portals and healthcare apps. Avoid using easy-to-guess information like birthdays or names.
3.     Monitor Accounts
Instruct them to regularly review their medical bills and insurance statements for any unauthorized activity. If they notice anything suspicious, report it immediately.
4.     Beware of Scams
Remind your patients to be cautious of unsolicited emails, calls, or texts asking for your medical information or payment details. Verify the legitimacy of the request before responding, and let them know what emails coming from your office will look like.
5.     Secure Wi-Fi
Instruct patients to use a secure and private Wi-Fi network, such as the one in your office, when accessing patient portals or medical apps from their devices.
6.     Log Out of Your Accounts
After accessing their medical information on a public or shared computer, remind them to log out of their accounts and clear any saved passwords.
7.     Data Backup
If they store health-related information on their personal devices, instruct them to regularly back up their data and consider encrypting the backups for added security.

A More Secure Future: Prioritizing Patient Data Protection
In the interconnected world of healthcare, patient data protection is a shared responsibility between doctors and patients. By adopting these practices and hiring a professional cyber security solutions company such as TCI Technologies, healthcare providers can protect their data, maintain patient trust, and uphold professional standards. At the same time, patients can also actively safeguard their sensitive medical information by following these tips.